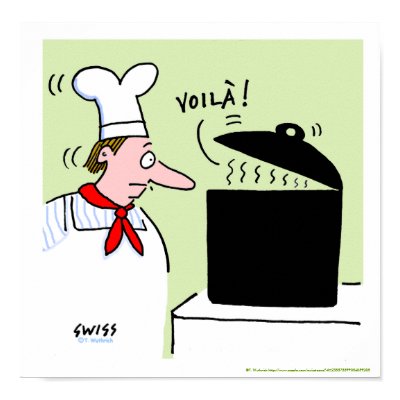 Fettuccine. When I think of it, I think "Fat! Fat! Fat!!" That's because of the cheese sauce. Cheese is good, but let's face it – it's TOO good! Too much cheese will give you too much fat in your diet, but cheese is a very nutritious addition to a healthy diet.
An ounce of cheese can supply you with almost a third of your daily requirement for calcium.
It is also a very good source of protein, Vitamin B12 and riboflavin.
The downside is, cheese can actually be quite high in sodium for such a small portion. And who actually only eats an ounce of cheese, which is most often the serving size recommended. It's also quite high in fat and cholesterol.
This recipe will call for Parmesan, which is one of the lower fat/calorie cheeses. The ricotta called for is part skim, which also helps to shave off some fat and calories. The main dish overall has a bit more fat than I like in a meal, but by standards, it's actually a low fat meal. Especially if you consider this: the fettuccine alfredo lunch entrée (meaning, their small portion) at Olive Garden is 18 grams of fat and almost 800 calories. Just for the entrée, and without meat!!! Throw in some chicken, or Italian sausage and you've just upped the calories and fat quite a bit more. The sodium is sky high too, as expected. Then consider their salad is 201 calories, and their dressing 90 calories…..and of course, a breadstick would be 150 calories for just one.
Not to mention calories added when you drink that Italian Margarita that just calls your name every time you go…..
Oh wait, maybe that is only me!
But as you can see, one meal out can easily add up to well over 1,000 calories, 25+ grams of fat, and sodium that would send someone with borderline blood pressure into stroke-ville!
Our main entrée will be 250 calories for 1 1/3 cup serving and only 7 grams of fat. So, not entirely fat free but within range of decency, as well as much better than eating out!
Cooking at home can be a hassle, for sure, but the payoff is much healthier eating. That means, in the long run, you will be a healthier person. And, hopefully, teaching your kiddos that Mc Donald's isn't what family dinner is all about!
Dinner Tonight is:
Simple Salad
Fettuccine with Asparagus and Peas
Glazed Carrots
*****************************************
Simple Salad

(6 servings)
This dish is gluten free!!

3 tablespoons extra-virgin olive oil

1 1/2 tablespoon red or white wine vinegar

1 tablespoon minced shallot

8 cups mixed lettuces

3/4 cup halved cherry tomatoes

Pepper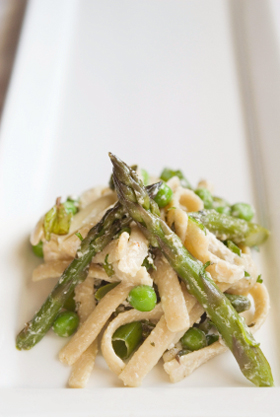 Fettuccine with Asparagus and Peas
(6 servings)
250 calories, 7 grams of fat, 363 mg sodium
Ingredients:
8 ounces of whole wheat fettuccine noodles
2 medium leeks (white portion only), sliced
1 tablespoon olive oil
1 lbs fresh asparagus, trimmed and cut into 1-inch pieces
2 minced garlic cloves
1 cup frozen peas
¼ teaspoon pepper
½ cup part-skim ricotta cheese
¼ cup Parmesan Cheese
2 tablespoons lemon juice
Cook fettuccine according to package directions.
In large nonstick skillet coated with cooking spray, sauté leeks in oil for 1 minute. Add asparagus and garlic; sauté until asparagus is tender crisp. Stir in peas, and pepper.
Drain fettuccine, reserving ½ cup of cooking liquid. Whisk in ¼ cup Parmesan, and lemon juice. Add to skillet; heat thoroughly.
Add fettuccine; toss to coat. Sprinkle with Parmesan Cheese.
Glazed Carrots

6 servings
This dish is gluten free!!

64 calories, 1 gram of fat
Ingredients
6 tspns water
6 tspns apple juice
1 Tablspn packed light brown sugar
1 tspn butter
1/2 tspn nutmeg
148 tspn kosher salt
24 ounces baby carrots
In medium saucepan, mix water, apple juice, brown sugar, butter, nutmeg and salt. Stir over medium heat until mixture comes to a simmer.
Add carrots; cover and simmer for 15 minutes, or until carrots are tender-crisp.
Chocolate Peanut Butter Parfaits
6 servings
146 calories, 6 grams of fat, 300 mg sodium, 16 grams carbs
(hint: you can cut the fat even more by using fat free whipped topping and omitting, or reducing, the peanuts)
Ingredients
2 Tblspns reduced-fat chunky peanut butter
2 Tablspns fat free milk, COLD
2 cups cold fat free milk
1 cup reduced fat whipped topping
1 pkg (1.4 oz) sugar free instant chocolate pudding mix
3 Tblspn finely chopped peanuts
In a small bowl, combine peanut butter and 2 tablespoons of milk. Fold in 1 cup of whipped topping; set aside. In another small bowl, whisk remaining milk with pudding mix for 2 minutes. Let stand for 2 minutes, or until soft set.
Spoon half pudding mixture into 6 parfait glasses. Layer with reserved Peanut Butter mixture and remaining pudding. Refrigerate at least an hour.
Just before serving, garnish with whipped topping and peanuts.