Ooooh, this was a fantastic meal!
This past weekend, D and I had some house guests. I wanted to make a nice dinner for them, and set out browsing some of my Cooking Light magazines for a dish that was suitable for their dietary needs due to dieting, cultural and religious reasons.
I found this recipe in the March 2008 issue and decided to give it a go. The recipe called for chicken thighs, but I used skinless, boneless chicken breasts. The magazine offered up nutritional information for the entree itself, but I am not sure how using chicken breasts vs chicken thighs might have altered that content.
In any case, here is the nutritional information for the casserole entree itself:
498 calories
19 grams of fat
38 grams of protein

43 grams of carbs

3 mg of iron

765 mg of sodium
(mine had less because I omitted the salt)
With this entree, we had broiled tomatoes and Green Beans with warm bacon dressing.
The recipe called for regular pork bacon, but I used turkey bacon to accommodate our guests restrictions. It was pretty good and I didn't miss the additional fat the pork bacon would have added to the meal.
The dinner was wonderful.
Dinner Tonight was:

Parmesan Chicken and Rice Casserole

Green Beans with warm Bacon dressing

Broiled Tomatoes
***************************************
Ingredients for Parmesan Chicken and Rice Casserole
1 cup of chopped onion
2 garlic cloves, minced
2 (3.5 ounces) boil-in-a-bag brown rice (I actually cooked brown rice instead of using this)
2 lbs chicken breasts, boneless and skinless
1 1/2 teaspoons of thyme
2 cups of fat free, lower sodium chicken broth
3 tablespoons of whipping cream
1/3 cup shredded Parmesan
Preheat oven to 450 degrees
Heat a large skillet over medium heat. Coat with cooking spray. Add onion to pan; saute 2 minutes. Add garlic; saute 30 seconds. Add cooked rice to pan; saute 30 seconds. Spoon rice mixture from skillet into a large casserole dish coated with cooking spray in an even layer.
Arrange chicken breasts in a single layer over rice mixture. Combine broth and cream in bowl; whisk. Pour over chicken and rice mixture. Sprinkle thyme over chicken evenly.
Bake at 450 degrees for 15 minutes. Sprinkle with Parmesan. Bake an additional 5 minutes or until chicken is done.
Makes 4 servings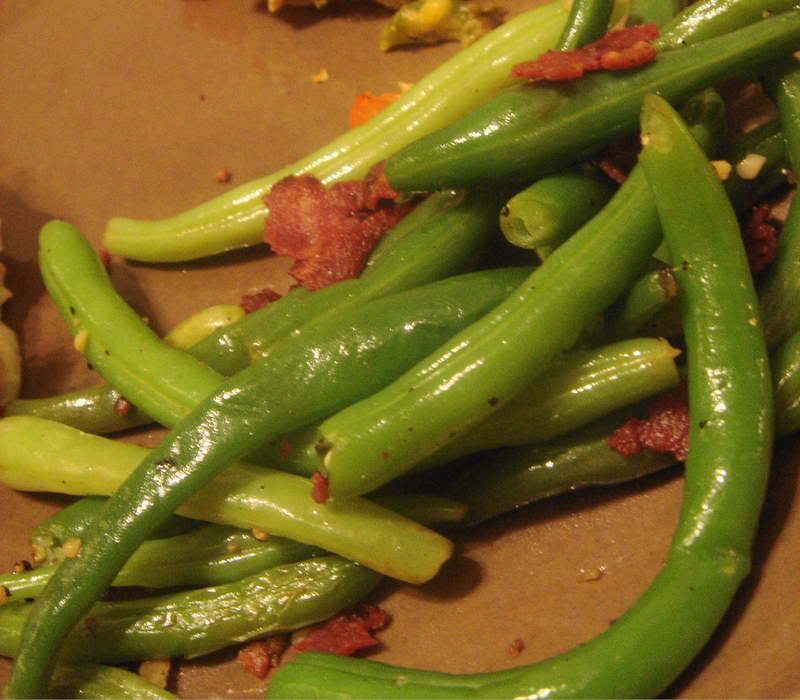 Green Beans in Warm Bacon Dressing Ingredients
1 lb fresh, trimmed green beans
4 strips of bacon
1/4 cup shallots
2 tablespoons white wine vinegar
Cook green beans in boiling water for 3 minutes.
Drain.
Cook 4 strips of bacon in skillet over medium heat until crisp.
Remove bacon from pan and crumble
Add shallots to pan drippings; cook for 3 minutes
Add 2 tablespoons white wine vinegar; cook 1 minute (I didn't do this)
Add green beans. Toss to coat
Sprinkle with crumbled bacon.
Broiled Tomatoes
4 tomatoes
basil
parmesan cheese
Halve the tomatoes
sprinkle with basil and Parmesan
Broil for 2-3 minutes